The Coronavirus surprise: a lesson in classical public health
Eskild Petersen | maj 2020 | COVID-19 | COVID-19,SARS-CoV-2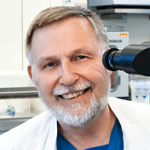 Eskild Petersen
MD, DMSc, DTM&H, MBA
Adjunct Professor, Institute for Clinical Medicine, Faculty of Health Sciences, Aarhus University Denmark
Visiting professor, Infectious Diseases, Department of Molecular Medicine, University of Pavia, Italy
Co-chair, ESCMID (European Society for Clinical Microbiology and Infectious Diseases) Emerging Infections Task Force, Basel, Switzerland
As most EU/EEA countries are starting to ease the current lock down, we at BestPractice Nordic think it is time to zoom out and get an overview of the situation. In this COVID-19 perspective MD and professor at Institute for Clinical Medicine, Aarhus University Denmark, Eskild Petersen gives an overview and share his thoughts about the pandemic, including immunity, community control, the potentially second wave and prospects to a vaccine.
During January 2020 China experienced an outbreak with a new Corona virus, SARS-CoV-2, genetically closely inked to the SARS outbreak also starting in China in 2003. I think it is fair to say that in January few of us had predi cted that it would cause a global pandemic, with millions ill and hundred of thousands deaths and severe disruption of the global economy. The initial data from China did not look very disturbing with an attack rate of 1.1 per 1000 population and a mortality of 4.8 per 100,000.1 However, these numbers do not add up. We have a respiratory virus not previously seen in humans and based on the experience with SARS in 2003, probably a certain mortality and a population attack rate of 1 per 1,000 is simply not credible.
So five months later – what have we learned?: a lot
Can we predict what will happen in the next 12 months?: no
Why is SARS-CoV-2 so infectious?
Peak virus excretion of SARS-CoV-2 happens when people start having symptoms and probably one to two days before.2,3,4 This is like influenza and means that quarantine at time of diagnosis is too late given that diagnosis will often be one to three days after the start of symptoms. This is in contrast to SARS where the peak virus excretion was at day five to seven after start of symptoms,5,6 meaning that isolation and quarantine prevented spread of infection.
It is also now well documented that many SARS-CoV-2 infected have mild or no symptoms and are therefore not registered as cases. This also applies to children who can be infected but rarely show severe if any symptoms.
The SARS 2003 virus, let us call it SARS-CoV-1, was much less infectious. At the peak of the outbreak 140 cases were registered world-wide in one week.7 Yes, there were super spreader events in Hong Kong and Toronto, but many of these were in hospitals not in the community. Once we had learned to quarantine patients the infection died out.
The peak SARS-CoV-2 virus excretion just before and after the time the symptoms start and a certain proportion of mild or asymptomatic cases, perhaps up to 30% explain the easy establishment of new clusters for instance in Italy with travellers from China and at the U.S. East coast with travellers from Europe. Thus the SARS-CoV-2 behaves much more like influenza than the SARS-CoV-1.
The SARS-CoV-2 courses a high mortality in elderly people and people with comorbidities like diabetes, hypertension and cardiovascular diseases. In some case series like from Italy the mortality in hospitalised patients over 80 years of age could reach over 20%,8 but mortality is seen in all age groups.
The clinical picture in severe cases is different from influenza. Severe influenza causes a double sided, interstitial pneumonia with no parts of the lungs spared so patients with influenza pneumonia rapidly go into respiratory failure, but this is a mono-organ failure.
In severe SARS-CoV-2 infection called CoronaVirusDisease-19, COVID-19, the lungs are affected but multi organ involvement including kidneys and hearth are much more common. The severe COVID-19 has two phases. The first five to seven days are the viremic phase where the immune system battle and control the virus seen by decreasing viral load in samples from the upper respiratory tract and the lungs. The second phase is a dysregulated immune response often called a "cytokine storm" with high levels of inflammatory markers like White Blood Cells (WBC), C-reactive protein (CRP), high levels of interleukin-6 (IL6), Disseminated Intervascular Coagulation and metabolic acidosis. If not controlled this condition may evolve into multi organ failure and death.9
It is not understood why a dysregulated immune response is much more common in COVID-19 compared to influenza and there are no uniform agreement on the management, although immunomodulating drugs like corticosteroids and anti-IL6 antibodies has been used. Studies are urgently needed to optimise the management of severe COVID-19 and the Italian experience can be a starting point.10
Immunity
Studies so far show that SARS-CoV-2 IgG-antibodies can be found 21 days after start of symptoms. But this is in hospitalised patients with clear clinical symptoms. It has been difficult to find SARS-CoV-2-specific IgG-antibodies in people with a mild infection with no or few symptoms.11,12,13
Looking at the 2003 SARS outbreak one study found IgG-antibodies up to 12-years after clinical infection in health care workers.14 A major difference between SARS and COVID-19 is that there was no or almost no asymptomatic or mild SARS infections so the follow up serology is on people with symptomatic infections.15
Are people who had a mild COVID-19 infection with no detectable IgG-antibodies immune and protected against a new infection – we don't know.
Community control of SARS-CoV-2
In a pandemic with a new virus were no one has immunity and we have no vaccine, the tools available to influence (we can not control it) the pandemic are basically the same that we had during the "black death" in the 13th century: quarantine, isolation and travel restrictions.
The purpose of these measures is to reduce the number of cases in the community so that the health service can cope. There is also evidence from the U.S. during the 1918 influenza pandemic "the Spanish flu" that overall mortality is reduced.16
Once the world understood that we could not prevent the global spread of SARS-CoV-2 and new foci was developing for instance in Italy, countries locked borders, restricted internal movement, confined people as much as possible to home, closed borders and schools. The key factor determining whether a country managed to control the outbreak or not seems to be how early the lock down measures were introduced.
How the different countries managed to control the pandemic can be seen by looking at the "population excess mortality". For the EU/EEA/UK these data are available from the European Mortality and Morbidity project.17 It is seen that Germany and Greece, the Scandinavian countries except Sweden managed to keep the excess mortality so low that it was within the normal range
Applied late like in the U.K., Spain and Italy where the virus was already widely spread, the outbreak was much more difficult to control, and the U.K. now has the highest fatality rate per population in Europe and the excess mortality z-score is twice as high as in Italy.17
Most EU/EEA countries are now discussing to ease the lock down and open borders and this can be done in a carefully staged process.18
It is interesting that Sweden has chosen a less rigorous policy than the other Scandinavian countries. The result is a higher mortality17 and the argument is that Sweden now has a higher proportion of immune persons in society so called "herd-immunity" and therefore will experience a less severe "second wave" and in the end we will all end up after two or three years with the majority of the population being immune and with the same mortality – perhaps but this is a pure guess.
Herd immunity
Most people have heard about heard immunity when we discuss that the vaccine coverage against measles must be above 90% of the children to prevent outbreaks. Measles is much more infectious than SARS-CoV-2 so the percentage is probably lower for SARS-CoV-2 but is it 40%, 60% or 80% – we do not know.
In the 2009 influenza pandemic it was estimated that 5.5% of the Danish population was infected.19 Another study estimated that in a non-vaccinated population the attack rate of a novel influenza will probably be around 20% of the population.20 Estimates of the population attack rate after the first wave of SARS-CoV-2 in Europe are missing.
Will we experience a second wave this winter
The honest answer is – we don't know.
One study has predicted that the SARS-CoV-2 will cause several waves the coming years,21 based on the assumption that the SARS-CoV-2 will behave as mild, common cold coronavirus that course larger or smaller outbreaks each winter.
A serious warning was expressed by the U.S. epidemiologist Michael Osterholm in an recent interview with NBC.22 He said that given that not more that 15% of the American population would be immune after the on-going outbreak, he was worried that the virus would come back in winter with a much more severe outbreak in the susceptible 85% of the population. This prediction is based on the pattern of the 1918 Spanish flu that caused a relatively mild outbreak over the summer 1918 to return in November 1918 with a new wave with a much higher mortality and morbidity than the first wave.22
Will we have a vaccine
Yes !
No doubt we will have a vaccine. With all the modern technology and all our knowledge of how immunity works against viral infections, and with more than 70 different projects world wide, it would be very surprising if we will not have a vaccine.
However, a vaccine need to be tested not least for adverse events and it would be surprising if a vaccine was approved before 2021. Even if approved the key problem will probably be the production phase. Do we have the factories? How will a vaccine be made available to poor countries? Some kind of roll out world-wide supported by international funding like the Global Fund to fight AIDS, TB and malaria are needed. We must avoid that the rich world get immunized but the virus continue to circulate in less fortunate countries.
Closing remarks
I will close with two citations by Michael Osterhalm from his 10th May interview with the NBC (22):
"Don't forget that you are riding a tiger – but you are not steering it".
He also cited Alice in Wonderland:
"If you do not know where you are going any old road will take you there".
We are in unchartered territory and an open mind, a humble attitude accepting that we can learn from each other's successes and failures will serve us best.
Referencer
1. China CDC and the The Novel Coronavirus Pneumonia Emergency Response Epidemiology Team. The Epidemiological Characteristics of an Outbreak of 2019 Novel Coronavirus Diseases (COVID-19) — China, 2020. China CDC Weekly 2(8): 113-22. http://weekly.chinacdc.cn/en/article/id/e53946e2-c6c4-41e9-9a9b-fea8db1a8f51 (Accessed 14th May 2020). 2. Woelfel R et al. Virological Assessment of Hospitalized Patients With COVID-2019. Nature. 2020 Apr 1. doi: 10.1038/s41586-020-2196-x. 3. To KK-W et al. Consistent Detection of 2019 Novel Coronavirus in Saliva. Clin Infect Dis 2020 Feb 12;ciaa149. Doi: 10.1093/cid/ciaa149. 4. Wang FS, Zhang C. What to do next to control the 2019-nCoV epidemic? Lancet 4 Feb. 2020 [e-pub ahead of print]. https://doi.org/10.1016/S0140-6736(20)30300-7. 5. Cheng PK et al. Viral shedding patterns of coronavirus in patients with probable severe acute respiratory syndrome. Lancet. 2004;363:1699-700. 6. Pan Y et al. Viral load of SARS-CoV-2 in clinical samples. Lancet Infect Dis 24 feb. 2020. https://doi.org/10.1016/ S1473-3099(20)30113-4. 7. World Health Organization. Consensus document on the epidemiology of severe acute respiratory syndrome (SARS). Department Of Communicable Disease Surveillance And Response WHO/CDS/CSR/GAR/2003.11. Geneva 2003. https://www.who.int/csr/sars/WHOconsensus.pdf?ua=1 (Accessed 14th May 2020). 8. Istituto Superiore di Sanita. Ministro della Salute. Italian Government Health Ministry Epidemia COVID-19. 17 April 2020). http://www.salute.gov.it/portale/news/p3_2_1_1_1.jsp?lingua=italiano&menu=notizie&p=dalministero&id=4240  (Accessed 14th May2020). 9. Siddiqi HK et al. COVID-19 Illness in Native and Immunosuppressed States: A Clinical-Therapeutic Staging Proposal. J Heart Lung Transplant. 2020;39:405-407. 10. Bassetti M et al for the Italian Society of Anti-infective Therapy (SITA) and the Italian Society of Pulmonology (SIP). Balancing Evidence and Frontline Experience in the Early Phases of the COVID-19 Pandemic: Current Position of the Italian Society of Anti-Infective Therapy (SITA) and the Italian Society of Pulmonology (SIP). Clin Microbiol Infect. 2020 Apr 29;S1198-743X(20)30257-3. doi: 10.1016/j.cmi.2020.04.031. 11. Grzelak L et al. SARS-CoV-2 serological analysis of COVID-19 hospitalized patients, pauci-symptomatic individuals and blood donors. Med Rxiv 21 Apr 2020. https://www.medrxiv.org/content/10.1101/2020.04.21.20068858v1. 12. Yong SEF et al. Connecting clusters of COVID-19: an epidemiological and serological investigation. Lancet Infect Dis 21st April 2020. https://doi.org/10.1016/S1473-3099(20)30273-5. 13. Okba NMA et al. Severe Acute Respiratory Syndrome Coronavirus 2-Specific Antibody Responses in Coronavirus Disease 2019 Patients. Emerg Infect Dis. 2020;26(7). doi: 10.3201/eid2607.200841. 14. Xiaoqin Guo et al. Long-Term Persistence of IgG Antibodies 1 in SARS-CoV Infected Healthcare Workers. medRxiv doi: https://doi.org/10.1101/2020.02.12.20021386. 15. Munster VJ et al. A Novel Coronavirus Emerging in China – Key Questions for Impact Assessment. N Engl J Med. 2020;382:692-4. 16. Hatchett RJ et al. Public health interventions and epidemic intensity during the 1918 influenza pandemic. Proc Natl Acad Sci U S A. 2007;104:7582-7. 17. EURO MOMO. European monitoring for excess mortality for public health action. http://www.euromomo.eu/ (Accessed 14th May 2020). 18. Petersen E et al. COVID-19-We urgently need to start developing an exit strategy. Int J Infect Dis. 2020:S1201-9712(20)30251-4. 19. Petersen E et al. Failure of combination oral oseltamivir and inhaled zanamivir antiviral treatment in ventilator- and ECMO-treated critically ill patients with pandemic influenza A (H1N1)v. Scand J Infect Dis. 2011;43:495-503. 20. Viboud C et al. Preliminary Estimates of Mortality and Years of Life Lost Associated with the 2009 A/H1N1 Pandemic in the US and Comparison with Past Influenza Seasons. PLoS Curr. 2010;2:RRN1153. 21. Kissler SM et al.. Projecting the Transmission Dynamics of SARS-CoV-2 Through the Postpandemic Period. Science 2020;eabb5793. doi: 10.1126/science.abb5793. 22. Michael Osterholm. Interview with NBC, 10 May 2020. https://www.nbcnews.com/meet-the-press/video/full-disease-experts-60-70-percent-of-americans-will-be-infected-by-virus-83267141543